Hands Free Calling
Answer phone calls using the "Call/Pair" button on the LCD Display. A2DP enhanced clarity technology provides crystal clear audio!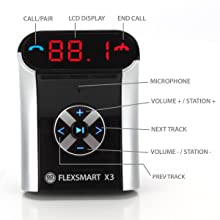 OnBoard Precision Controls
Control your phone's functions such as answering/ending calls with the buttons, using the microphone to speak, or calling the music that you play.
USB Charging
Charge your electronic device with the USB Port. Connect non-Bluetooth devices with the Line-In / Line-Out Aux ports to stream your music, podcasts, and more
What Comes In the Box
USB charging port (Micro USB charger cable included) and auxiliary Line-In & Line-Out , you can connect nearly any device.