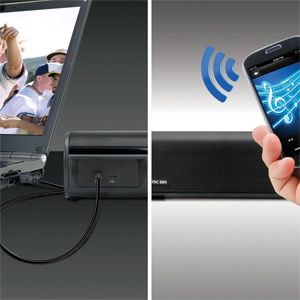 Wired & Wireless Connections
3.5mm AUX (Wired): Play audio from your desktop, tablet, or laptop with the included 22" 3.5mm AUX cord and 22" Micro USB power/charging cord.
Bluetooth (Wireless): Wire-free connectivity that automatically reconnects the BBR to the last media source it was connected to. If using Bluetooth, the BBR will shut-off after 15 min of inactivity to conserve battery.
Optimized for Unused Monitor Space
Thanks to its low-profile design, the BBR can tuck directly under your monitor screen and conveniently utilize that wasted space while freeing up room on the sides of your monitor.
Pro Tip: Use the included 3.5mm AUX cord and USB cable to connect the BBR to your PC for optimal audio quality,
Auto Shut-Off Battery Protection
If you were wirelessly streaming audio to the BBR from your media device and your media source goes into Sleep Mode (which disconnects it from the BBR), then the BBR will begin a 15-minute countdown before shutting off to help conserve battery life. If your media device comes back On before the 15-minute timer, then the BBR will reconnect and not shut down.